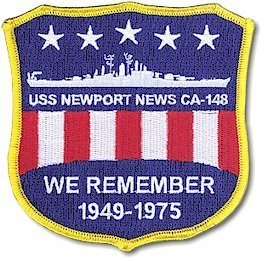 Patch=Eagle Crest, Decal= Kelly Graphics
#12-USS Newport News CA-148 "All Hands, All Eras" Special Reunion Association Patch or Decal
Regular price
$4.00
$0.00
Shipmate Louis Fricano Observed That Our "Ship's Seal" Patch & Decal (Items #10 & #75-10) Were Not Used Prior To The '62 Conversion, After THUNDER Went To Vietnam, It Still Said "Atlantic Fleet". He Wondered If We Could Have A Patch & Decal Which Would Reflect All Eras Of Our Service. We Were Glad To Oblige.
*This Item Is "Just For Us... All Of Us" And Is Unique To The Newport News Reunion Association.
*The Five Stars Represent The Five Seas We Sailed - Arctic, Atlantic, Mediterranean, Caribbean, And Pacific. "We Remember" Every Year Of Our Shipmates' And Our Beloved Ship's Service.
Item #12 Patch: High Quality, Full-Embroidered, With Iron-On Backing, Can Be Sewn On As Well. Dimensions: 4" X 4"  - Stands Out!
Item#75-12 Decal: For Window, Bumper, Computer, Or Any Flat Surface
---
More from this collection