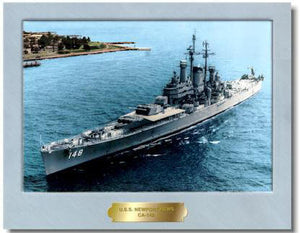 The Scan Group-Jeff Snyder
#90A- USS Newport News CA-148 Picture 1949-1962 (Original)
Regular price
$12.00
$0.00
These photo's are high quality glossy color copies, with excellent color and fine detail.  They include a border which is actually part of the picture, but looks very much like a matte border with a brass name plate.  They look very nice when dropped into a standard 11" x 14" inch picture frame. 
Pictures can be trimmed to 8"x10".
Photo "A" - Item # 90A 
1949-1962 (Original) configuration
This shot shows the Pre-62 Ship Entering Port, with Forward Deck Canvas Rigged and all Hands Topside in Whites
Pictures are shipped in separate mailing tube.
Item # 90A
---
More from this collection