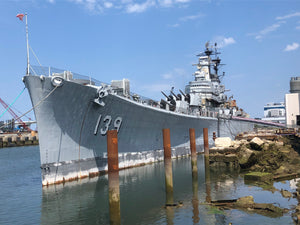 USS Newport News Ship Store
#104 DONATE TO SUPPORTING MUSEUM SHIPS Services
Regular price
$1.00
$0.00
You can donate to the USS NEWPORT NEWS MUSEUM located on the USS SALEM CA-139 here.  The Salem is in dire need for funds to continue operation.  She is behind in payments for electric, pier rent, heating fuel oil, etc.  We desperately need your help.
If the Salem has to close down it will cost us $10,000 to find and move our museum to another location.  WE NEED YOUR HELP.
Any donation Large or Small will be put to use.
100% OF YOUR DONATION WILL GO TO SUPPORTING THE MUSEUMS.  This is a tax deductible donation.  Tax deductible forms will be sent out upon request.
---
More from this collection