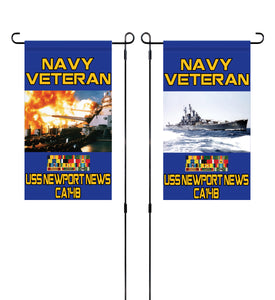 It's Tops
#101 NN Lawn/Garden Flag
Regular price
$19.00
$0.00
CUSTOM MADE
12" X 18" Double sided, Full Color Lawn / Garden Flag
One side is our ship at sea, the other side is 8" main batteries firing.
Knitted Polyester, Double sided with a block out liner, 1" Pol Sleeve,
Show that your Proud of your service on the USS Newport News CA 148.
#101 - Flag only  $29.00
#101A -  Metal display pole/stand  $19.00
Note:  Flag stands may also be bought through stores like Home Depot, Lowes, Ace Hardware, Walmart etc.  Ranging from $11.00 To $31.00 depending on the quality and the type of pole/stand you would prefer.
Due to our very low order quantity the prices are a little higher than the BIG BOX STORES that order these types of Lawn Flags by the thousands. I'm trying to keep the prices as affordable as possible.  BUT THIS IS CUSTOM MADE
---
More from this collection